Welcome to Aqualane Shores
Waterfront Luxury Homes in Aqualane Shores
Take one look at a map of Aqualane Shores in Naples, Florida and you will know what the area is most known for boating and beaches. One of Naples' premiere neighborhoods, Aqualane is situated between Old Naples with its ultra chic Third Street South shopping district and the ultra elite community, Port Royal. Most of the homesites in Aqualane Shores are located on deep, navigable waterways with direct Gulf access via Gordon Pass, just a few minutes south of this casually elegant community located in Naples.

Quiet cul-de-sac streets lined with towering palm trees present an atmosphere of a small, waterfront community off the beaten path, yet it is just a few blocks from Naples' sugar sand beaches. Many of the original homes built here in the sixties and seventies have long since been razed for more modern, often multi-storied homes with varied architectural influences from Mediterranean, to Contemporary, and Olde Florida to Mission styles.

Most of Aqualane Shores' luxury homes have docks and seawalls but many have actual boat slips carved into the water's edge to provide a safe and convenient mooring for various types of boats. Whether you prefer a 32 foot Catamaran or a 54 foot motor yacht, you will enjoy having your own private dockage right at your back door in Aqualane Shores.
Luxury Single Family Homes in Aqualane Shores
In Aqualane Shores you can expect to find homes ranging in price from about $1,700,000 for a smaller, more modest home built in the late seventies to over $6,000,000 for a three year old exquisitely finished luxury home with over 7000 square feet of living area. Aqualane is ideal for the sophisticated boating enthusiast who is looking for a luxury home in a quiet, beautiful, waterfront neighborhood of understated elegance.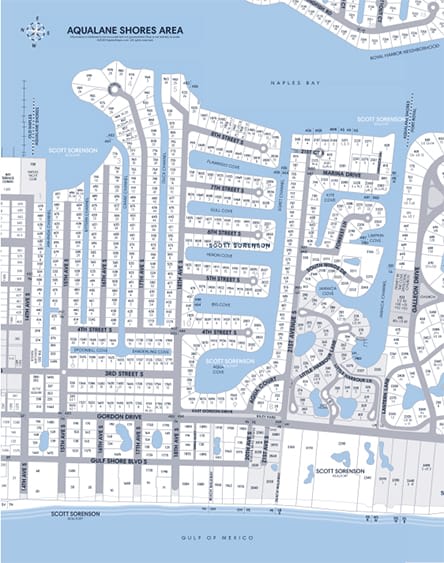 Aqualane Shores Real Estate Map - Naples Florida
Luxury Real Estate Advice Aqualane Shores Real Estate Expert
Ask Scott Sorenson for advice on how to make an offer to purchase or rent a luxury home located in Aqualane Shores; you'll be glad you did. You can thank Scott for his expertise with a boating/fishing adventure on your own boat, embarking from your own dock right at the back door of your luxury waterfront home located in wonderful Naples on the Gulf.